Anyone interested in my lot of frs/brz gear
2 sets of enkeis
beautiful condition one small scratch on rpo3s (see pics) no rash of any kind and rarely used.
1. RP03 Enkei
tires direzza zii's 245 40 R17 about 1000 road miles only
wheels are 17x8 48mm offset
2. eibach pro spacers 20 and 25mm
3. Enkeis unknown but stock size
Brand new re71r 225 45 17. Paid over 800 bucks for just tires (see receipt)
They might have 300 miles on the
4. ISC 15mm spacers unused
5. Ferodo brake pads for stock calipers
3 rear and one 1 front. 1 of the rear and the front pads are brand new
6. Four Stop tech cryo rotors used but still have some life.
7 tow hook
See pics. I?d like 2000 for all of it or make me a reasonable offer. Don?t have car anymore. The re71rs were 800 plus themselves the Dunlap?s are nearly new.
This is over 4000 worth of stuff for half price.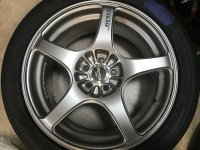 Sent from my iPhone using Tapatalk Pro